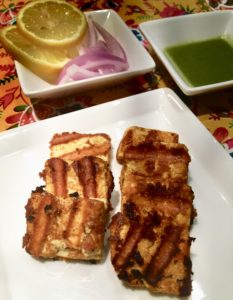 Paneer Tikka Kebab are marinated Paneer cubes grilled, barbecued or otherwise baked in oven. These cubes can be arranged on skewers as well.
It's a popular North Indian appetizer, which can be replicated very easily at home.
My Story…
Growing up in India, I will always have a strong connection with Paneer. Whether it's Paneer Makhani, Paneer Bhurji or Paneer Tikka kebab! It was our alternative "special" food to non vegetarian dishes ?. My mom's secret weapon to deal with her fussy eaters ?
Every home has a few Pantry mandatory ingredients. Well Paneer was one of those in our home! And as they say, legacy continues, my freezer always has a paneer pack ?
Paneer Tikka Kebab was something my mom made as a quick appetizer on a busy weeknight. It's something I have grown eating and comes to my mind, if I am in a dilemma to cook something quick and "special".
Kebab History!
Going back in history, India has always been predominantly vegetarian. This implies kebab were never invented here! Genghis Khan's (a Mongolian ruler) army, that invaded India, bought in the kebab tradition.
How about Vegetarian kebab?
Indian cuisine is predominantly vegetarian. Hence there are vegetarian variations of kebab like 'Hara bhara kebab', 'Haryali kebab', 'Panner tikka kebab', 'Dahi ke kebab', etc.
Health Benefits
Paneer is made from the non fat part of milk. It's a good source of proteins and calcium (if taken in moderate amount).
Are Paneer and Cottage cheese the same?
Cottage cheese and Paneer are often used as synonyms. I would like to use a word of caution here, as these two cheeses are very different in form, texture and taste.
Paneer is frequently used in Indian kitchens and hugely available across all Indian grocery stores. It's a pressed solid that is easily cut. On the other hand, cottage cheese is drained, wet, loose curd with mild flavor, which is easily found at regular grocery stores.
About the recipe
Traditionally, marinated Paneer cubes and diced vegetables are grilled in a clay oven (or Tandoor). Of course, at home we wouldn't have a Tandoor. In this case, we use alternate cooking appliances that replicate a Tandoor, like an oven, grill or stove top and grilling pan. The charred flavor from these techniques are good enough to achieve the Tandoor flavor.
The key is the marination. The marinade consists of yogurt and spices. Paneer cubes and diced vegetables (optional) are marinated for a minimum of 2 hours. The longer the marination, the better. You can always marinate the paneer the previous night and make kebab the following evening!
Add your choice of vegetables: onions, bell peppers, tomatoes, broccoli, mushrooms.
However, for this recipe, I excluded the vegetables.
Serve them with a chutney and salad side or with naan/ parathas (Indian flatbread). They are delicious anyway ?
Paneer Tikka Kebab
Paneer Tikka Kebab are marinated Paneer cubes grilled, barbecued or otherwise baked in oven. These cubes can be arranged on skewers as well.
Print
Pin
Rate
Ingredients
400

grams

Paneer

cut into cubes

2

tbsp

olive oil

or any cooking oil for grilling
For marinade
4

tbsp

plain yogurt

beaten and smooth

2

tsp

Ginger garlic paste

1

tsp

Red chilli powder

1/2

tsp

Turmeric

1

tsp

garam masala

1

tsp

coriander

1

tsp

Cumin

1

tbsp

Lemon juice

1

tsp

olive oil

or any cooking oil

Salt to taste
Instructions
Cut the Paneer cubes. If you want to add veggies, dice them as well. Be sure to cut them in similar size as the paneer cubes.

In a medium mixing bowl, add all the ingredients under ' For marinade' and mix to get a smooth paste.

Add the paneer cubes (and the veggies) and marinate for a minimum of 2 hours (can be more as well) in a refrigerator.

After 2 hours, remove Paneer and let it come to room temperature.

Take a grilling pan and brush oil uniformly. Heat it.

Once heated, on a medium flame, grill the paneer cubes. The grill marks should appear on both the sides.

Remove and serve hot with a chutney and salad side.
Notes
Cooking with skewers:
Immerse the skewers for 15 minutes in water prior to use. This will prevent food from sticking to it once cooked.
If you don't have skewers, use toothpicks instead!
Skewer the paneer cubes and veggies alternatively.
Follow the same steps if using a grilling pan.
Cooking in Oven:
Preheat oven to 240 C (or 465 F).
Line the baking tray with a baking sheet and arrange the paneer cubes/ skewers.
Bake for 15 to 20 minutes or until the sides turn golden brown.
Half way through the bake time, flip the pieces to get charring on both the sides.
The nutritional value is for 1 serving. Please keep in mind that the nutrition value is a rough estimate and can vary based on the product used.
Nutrition
Calories:
255
kcal
|
Carbohydrates:
3
g
|
Protein:
10
g
|
Fat:
23
g
|
Saturated Fat:
11
g
|
Cholesterol:
46
mg
|
Sodium:
30
mg
|
Potassium:
33
mg
|
Fiber:
1
g
|
Sugar:
1
g
|
Vitamin A:
112
IU
|
Vitamin C:
2
mg
|
Calcium:
339
mg
|
Iron:
1
mg